Races Might Be Virtual, But the Training and the Runs are Real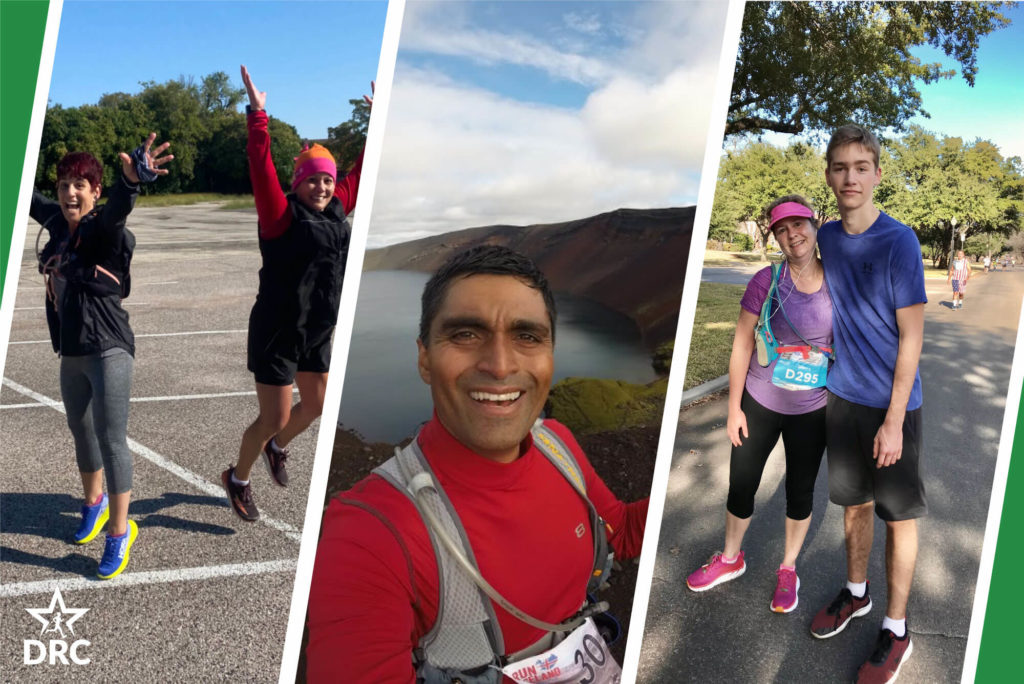 The Solo Runner: DRC Member Sherry Mercer
Sherry Mercer is something of a virtual run veteran, having completed five of them during the pandemic. She reflects on the experience.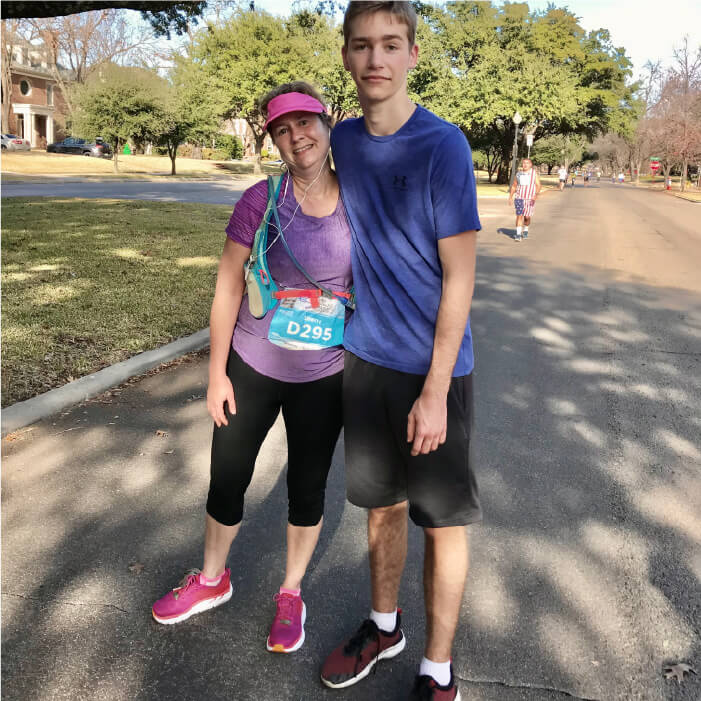 Q. How many virtual runs have you participated in?  
I'm almost done with my 5th one.  I've tried to do ones with longer mileage; my current one is 155.1 miles.  My first one was short, 18.5 miles, but I liked the Cinderella theme and their quote, 'Proof that a pair of shoes can change your life'.
Q. Did you decide on virtual runs as a running motivation or another reason? 
I needed some motivation when we went into lockdown, since we couldn't run as a group anymore.  Logging my mileage has really helped hold me accountable.
Q. How difficult – or rewarding – was it to train by yourself without a pacing group? 
My long runs have been really hard without my group to hold me accountable and push me.  It's way too easy to cheat and walk a lot more.  When I have a solid long run, I feel really good, it just feels like there are fewer of them!
Q. After a virtual run, how did you feel?  
I do feel accomplished, since it's given me a little more motivation without being able to do races.  Since I've done the longer race challenges, it's given me an interesting way to track my mileage.
Q. Were you signed up for DRC virtual training as part of your virtual runs?  
I'm doing the half marathon spring training and started a virtual race at the beginning of it.  I'm just finishing up the 155.1 miles challenge. I never knew how much I ran in training, so that's been good to learn.
Q. Would you recommend a virtual run, and why?  
I would, especially if you don't have the option of a live race.  I'm not sure if I'll keep it up when everything goes back to normal, but it's helped me make it through this shut down.  Also, getting a medal in the mail is kind of a thrill!
The Team Run: Lisa Kahn Samuels and Vicki Larkin Harris
DRC member Lisa Samuels and DRC membership director Vicki Harris in the past year completed one of the most famed "bucket-list" marathons in the world – the NYC Marathon. The catch: Instead of running past millions of spectators through the five boroughs of New York City, the team ran by themselves over the potholed streets of Dallas. Lisa has run two virtual runs, both NYC, and Vicki has run four. They talk about this most recent experience.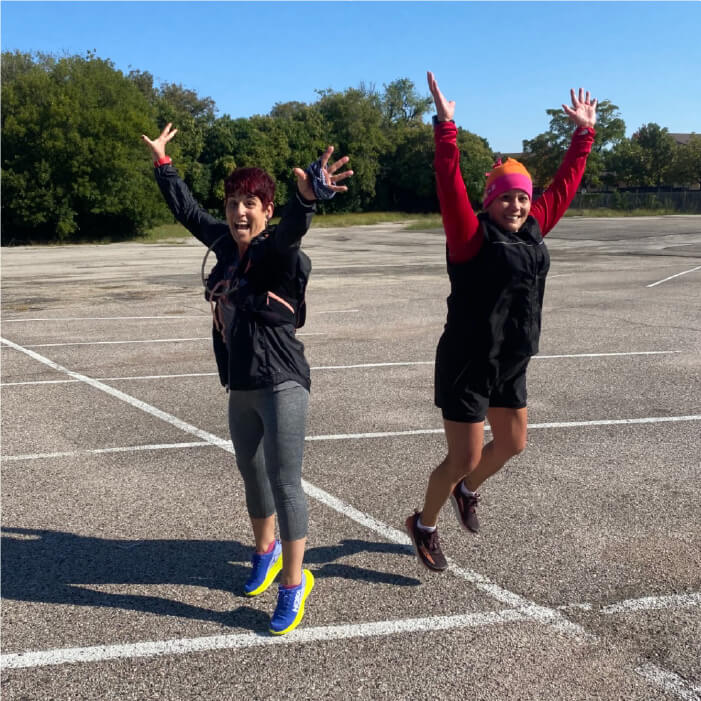 Q. Did you decide on virtual NYC Marathon as a running motivation or another reason?  
Lisa: I actually was training for an in-person race and decided to run with Vicki to support her and to get the miles in. 

Vicki: I was almost at the end of my marathon training when things shut down due to COVID.  I figured training for a virtual race would be a great way to keep me motivated.

Q. How difficult – or rewarding – was it to train by yourself without a pacing group? Did you train solo or with someone else?
Lisa: I had been training during the pandemic by myself and with one or two others. I prefer to train with others but during the pandemic, I had to run by myself most of the time. 
Vicki: I trained solo most of the time. It was a little difficult to finish the long runs when I was running by myself. Your mind can talk you out of anything and can cause you to lose motivation. I was fortunate to be able to run a few long runs with Lisa toward the end of the season.

Q. What kind of course support did you have, since lack of course support is the biggest problem with virtual races?
Lisa: (Vicki's husband) Grady was our support, and he did a great job. It was nice to know he was up ahead with whatever we needed. 

Vicki: Training with the DRC has taught us to always carry plenty of fuel and water.  Of course, my husband, Grady, was there for support just in case we needed anything. Our dear friends Michael Millett and Miranda Gilliam were cheering for us toward the end of the race.  It is always comforting to know you can count on friends and family to be there for you.
Q. NYC Marathon is known for the experience. Did the virtual race try to replicate that in any way?
Vicki: The NYRR (New York Road Runners) racing app was very engaging and fun! They did a great job to try and replicate the race by putting together inspirational and informational content with tips and resources that you could listen to along the route.  The NYRR Facebook group also was a great resource!  
Q. After the virtual run, did you feel accomplished?
Vicki: Even though we did not have the crowd support, it still was a great experience. 26.2 miles is a long way! Knowing that I was able to stay motivated and finish the race without crowd support and aid stations was definitely an accomplishment!

Q. Were you signed up for DRC virtual training as part of your virtual runs?  
Vicki: I was actually coaching the DRC Run/Walk virtual training group. I figured it was best for me to lead by example! I would definitely recommend a virtual race. It really is a test of willpower. It is always rewarding when you cross the finish line with or without a crowd! You never want to feel that you let yourself down. After all, in the end the real race is against yourself!
Lisa: I am addicted to race day. The sights, sounds and butterflies that I get race morning at an in-person race. It's just another run if it is virtual. Give me in-person any day over virtual. 
The Organizer: Sanjay Pamurthy
Sanjay, the treasurer for DRC, helped organize the club's first-ever virtual "The Half".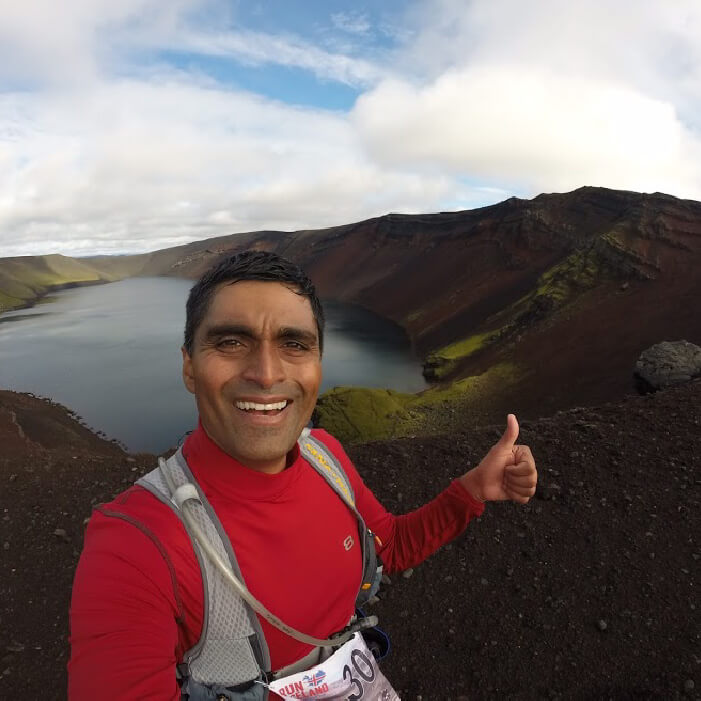 Talking about the experience, he says, 
"Unusual situations call for unusual departures from tradition. This was the 45th running of DRC's "The Half" – the oldest half marathon in Texas. Faced with no option BUT to go virtual, we decided to not let a four-and-half-decade legacy have a gap."
A small team, led by Sanjay, undertook the planning, and it included help from member Jim Kerins and ideas from several people. The decision to turn The Half into a trifecta proved an easy one.
"The Half has always had 13.1 and 5K distances. As we were planning the race – given a month-long time window and few logistical constraints – we decided to add a 10K. It only made sense to allow people to run all three, and be recognized for it. The first-ever virtual The Half proved to be a success,"  Sanjay says.
"We had 310 runners participate, including 60 who ran the Trifecta! We were very happy with the result, given the format and circumstances. I think keeping the price low was key. Compared to the usual $60-90 race fees, we set the price at $15 per race and an extra $10 if you wanted the finisher shirt. Any race's biggest expense is for police along the route and race venue amenities. A virtual race doesn't incur these costs. The low race fees inspired our members to contribute $1,600 in donations towards the Tal Morrison Scholarship fund."
As for challenges and lessons learned, Sanjay says, "The biggest challenge was allocating time to keep up with registration questions, follow ups and reviewing race confirmations. Runsignup has been a fantastic switch for DRC and makes managing a race easy. As for lessons, I think unbundling race swag like finisher's shirts will help races stay affordable. We are also looking at new routes that will require less traffic management. The biggest lesson is that a virtual race just doesn't hold up to the energy of a live event. We can't wait to bring back the full-blown DRC Half, hopefully this November."
Finally, Sanjay notes, "We want to thank everyone who ran. It's been a tough year for the club, race organizers and the DRC Board. Seeing so many people sign up and run by themselves was a good reminder that what we do actually makes a difference to a lot of people."